Wind-generated tones in Architecture??
They still exist...!
---
Sounds generated by the natural wind are all around us, but usually we don't take care. On the bargain, our brain/ ear eliminates them as "normal", unimportant noise of our surrounding world. Disturbance? Not desired...
The fact, that our ear is capable to do more in generating an exact "acoustic image" of a surrounding we cannot survey with our eyes in a moment; this fact we recognize, when some handy alarm us with its peeping tones, in a moment, when we fade/ filter out the daily noise of airplanes and streets unconsciously without any effort.
Our ear, an archaic "alarming organ".
Especially in the living area the acoustic scientists specialized in buildings do all they can in order to prevent undesired sounds, or at least to damp them.
The more interesting it is, when from time to time a building rests "uncared" - at a place, where nobody feels disturbed by the sounds...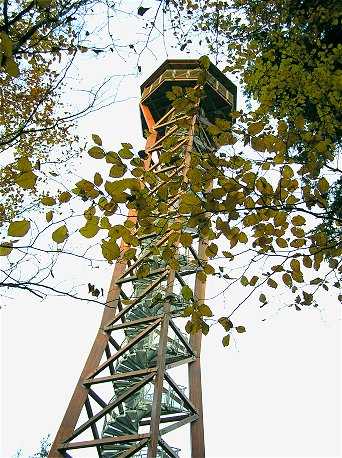 "Teltschik Tower" near Wilhelmsfeld in autumn
Such an example is the observation tower pictured above, situated on the "Schriesheimer Kopf" mountain-peak, in the South-West of Wilhelmsfeld, a small village in the Odenwald-mountain North-East of Heidelberg/ Germany.
Following sheer endless winded stairs of metal-grid ...
...you climb over the tops of the surrounding pine trees reaching with increasing wind and slightly out of breath..., the observation point. Good weather provided, we can overlook the rhine valley and the Odenwald-mountains in its whole beauty.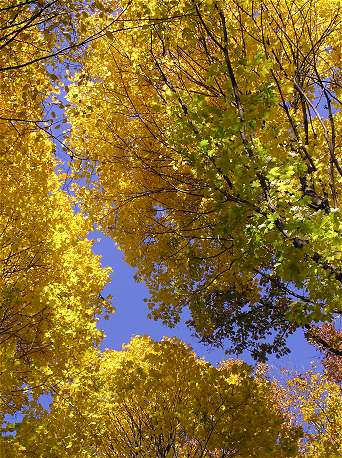 Looking to golden tree's top at Odenwald-autumn in 2003
When wind is quiet a pleasant place...
but when a breeze's coming up and the temperatures in autumn are somewhat frosty, you will need warm, wind-tight clothing in order to feel well...
As a compensation, you are rewarded with a little concert in a very special manner:
Looking at the tube-construction of the observation-platform you can see bored 10mm holes at the upper end of the vertical tubing, possibly serving as ventilation holes in order to keep the steel-tube's inside dry and rust-free.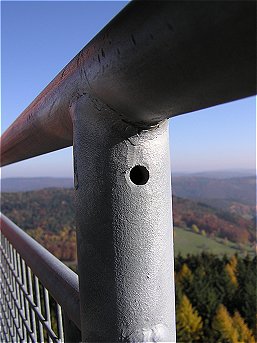 Looking direction North-West on a
"Musical-Hole"
in the tower's railing
Into these openings the breath of the wind is blowing in like into many flutes, and, depending on the wind-direction, you can listen to endless random sequences of harmonic cords, ascending and falling following the breath of nature.
Best wind-directions for pure enjoyment are East to South. The other directions take with them some other noise from a street and the village nearby.
Please listen to a recording at a fine autumn-day with a little breeze from South-West...
(I hope you will excuse the limited quality of the sound. Separating the wind-noise from the desired sounds is much easier done by our ear than by my recording techniques...)
...another longer (535k, 134sec) recording in stormy weather dating from July 2007...
Take with you my best wishes for good weather and good winds when exploring the secrets of Odenwald-mountain with its castle-ruins and forests!
Here are some other examples of sounds in architecture:
Portuguese windmills with sounding vessels,
"Wind-Witch" in chimneys,
"Wolf-Tiles" on roofs on French rural houses,
"Gap-tones", wind sounds generated at gaps at doors, windows etc., closely related to the sounds on Aeolian Harps
and the "Door-Aeolian-Harp"
Keep Vibrating,
Yours,
U.Wahl.
Suggestions, Ideas, Criticism or Questions...?
Please mail them to Kite Musical Instruments...

...You're giving me the possibility to improve these pages
for You
Thank you!

All Rights Reserved, Uli Wahl

Go back to the main page of Kite Musical Instruments/ Wind-Muscal Instruments
German Version Following...
Winderzeugte Töne in der Architektur?
Es gibt sie immer noch...!
---
Vom natürlichen Wind erzeugte Geräusche sind allgegenwärtig, doch wir achten normalwerweise nicht auf sie. Hinzu kommt, daß sie unser Gehirn/ Gehör als häufige Umgebungsgeräusche automatisch ausblendet. Störung? Nicht erwünscht...
Daß aber unser Ohr eigentlich zu mehr fähig ist, indem es ein genaues "akustisches Bild" von einer Umgebung erzeugt, die wir momentan mit den Augen nicht erfassen können, merken wir dann, wenn uns Klingel- und Piepstöne von Handys aufschrecken, während wir alltägliche Straßen-, Flugzeug- und sonstige Umgebungsgeräusche mühelos "ausblenden" und scheinbar gar nicht mehr bemerken.
Unser Ohr, ein archaisches "Alarmorgan".
Besonders im Wohnbereich unternehmen Bau-Akustiker alles, um unerwünschte Geräusche zu verhindern oder zumindest abzudämpfen.
Umso interessanter wird es, wenn ab und zu ein Gebäude regelrecht "vergessen" wird - dort, wo sich keiner an den Tönen stört...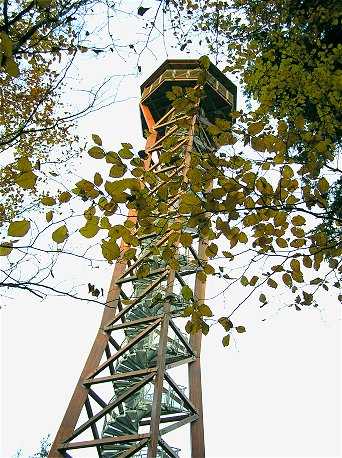 Der "Teltschik Turm" bei Wilhelmsfeld im Herbst
Ein solches Beispiel ist der oben abgebildete Aussichts-Turm auf dem "Schriesheimer Kopf", südwestlich von Wilhelmsfeld, einem kleinen Ort im Vorderen Odenwald nordöstlich Heidelbergs gelegen.
Über eine schier endlose Metallgitter-Wendeltreppe...
... steigt man über die "Baumgrenze" und erreicht, bei zunehmendem Wind und leicht außer Puste..., den Aussichtspunkt und läßt seinen Blick nach Westen hinausschweifen, weit über die Rheinebene bis auf die Berge der Pfalz und über den gesamten Odenwald mit seinen markanten Bergen.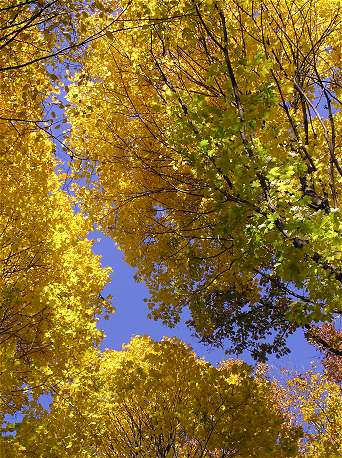 Blick gen Himmel im herbstlichen Odenwald 2003
Ein angenehmer Aufenthaltsort bei Windstille...
wenn jedoch eine Brise weht und die Temperaturen im Herbst bereits etwas frostig sind, braucht es warme, winddichte Kleidung um sich wohlzufühlen...
Zum Ausgleich wird man unerwartet mit einem Konzert der besonderen Art belohnt:
In der Rohrkonstruktion der Aussichtsplattform befinden sich an den oberen Enden der vertikalen Rohre Löcher von etwa 10mm Durchmesser, die möglicherweise dazu dienen, das Rohrinnere zu belüften und damit trocken und rostfrei zu halten.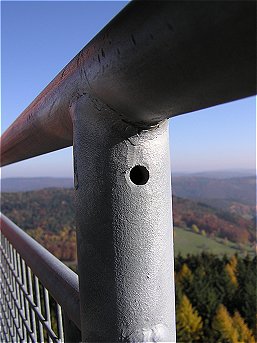 Blick nach Nordosten auf ein
"Musik-Loch"
im Turmgeländer
In diese Öffnungen fährt der Wind mit seinem Atem wie in viele Flöten und man hört je nach Windrichtung und -stärke in endlosen Zufallsfolgen die Akkorde der harmonische Tonreihen ansteigend und wieder fallend entsprechend dem Atem der Natur; dazwischen das Quietschen der Windfahne auf der Turmspitze...
Die besten Windrichtungen für puren Genuß sind Ost- bis Süd. Bei anderen Richtungen stören Fremdgeräusche ein wenig.
Hier eine Tonaufnahme an einem wunderschönen Herbsttag bei einer leichten Brise aus Südwest...
(Ich bitte die mäßige Tonqualität zu entschuldigen. Windgeräuschen von Tönen zu trennen ist für unser Ohr wesentlich leichter als für die Aufnahmetechnik...)
...und eine neue Aufnahme (1600k; 145sec) bei stürmischem Wetter vom Juli 2007...
Beim Erkunden des vorderen Odenwalds mit seinen Burgen und Wäldern wünsche ich Ihnen viel Spaß!
Hier sind noch einige andere Beispiele der Anwendung winderzeugter Töne in der Architektur:
Portugiesische Windmühlen mit ihren Klanggefäßen,
"Wind-Hexe" in Kaminen,
"Wolfs-Ziegel" auf den Dächern französischer Bauernhäuser in den Cevennen,
"Schlitz-Töne", windgenerierte Töne an Tür-/ Fensterschlitzen, eng verwandt mit den Tönen an Windharfen!
Die "Tür-Windharfe", ein Beispiel aus der Innenarchitektur...
Keep Vibrating, Ihr U.Wahl.
Anregungen, Ideen, Kritik oder Fragen...?
Dann bitte Mail an Kite Musical Instruments...

...Sie geben mir damit die Möglichkeit, diese Seiten
für Sie
weiter zu verbessern, Danke!

All Rights Reserved, Uli Wahl

Zurück zur Kite Musical Instruments/ Wind-Musik Instrumente Hauptseite