...Im März 2019 genießen wir die ersten sonnigen Frühlingstage am nördlichen Teil des Lago Maggiore...
Akazien/ "Mimosen" blühen mit den Kamelien um die Wette; die Luft riecht nach frischer Erde und Blüten.
Der See dehnt sich im Nordföhn unwirklich blau gen Süden...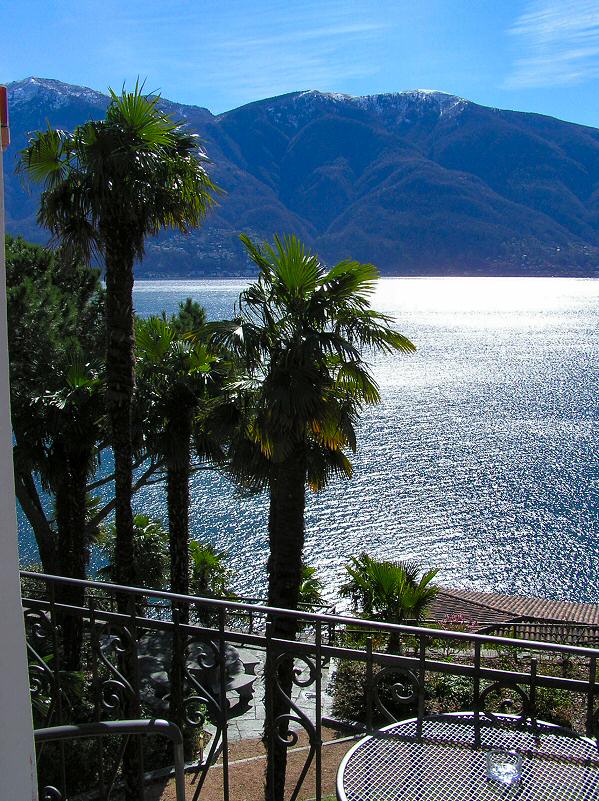 ...der Frühling am Lago...
...was für ein Kontrast zu den wildromantischen Hochtälern im Norden von Ascona und Locarno!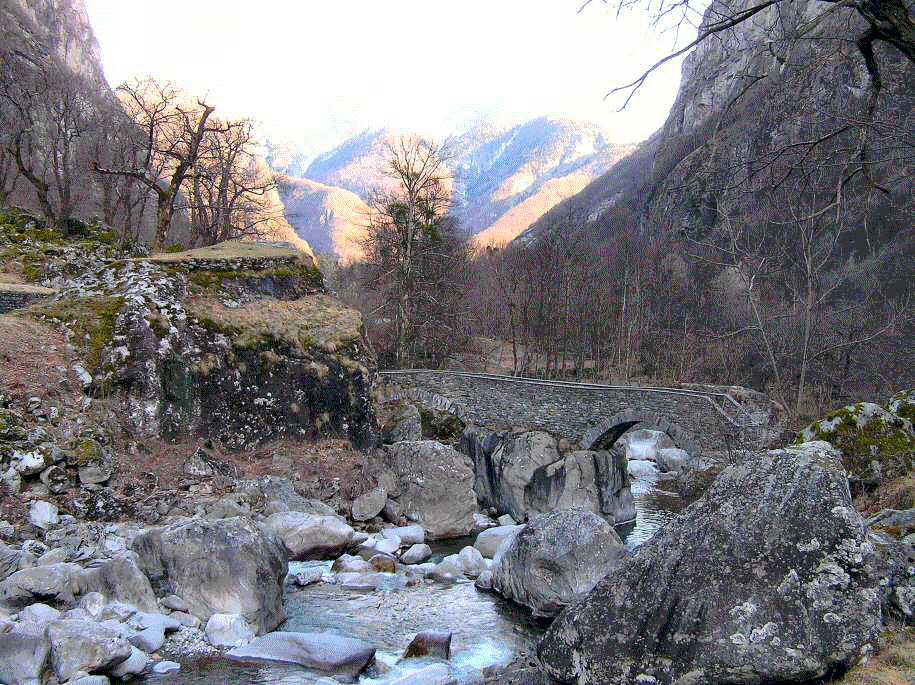 Über Jahrhunderte bewährten sich die Stellen, wo sich archaische steinerne Brückenkonstruktionen über den widerspenstigen Fluß spannen ― eins mit der Natur...
...im späten Mittagslicht liegt der Talboden der Maggia bereits im Schatten, die weißen verschneiten Berggipfel des Hintergrunds sind blendend hell...
Umliegende Gipfel sind noch verschneit und in den Gebirgstälern der Maggia und Verzasca zeigen Schneereste, daß der Winter dort nur eine kleine Atempause einlegt. Alle Bäume sind noch ohne Blätter; kleine Gruppen von weißen Krokussen duchstoßen zuversichtlich das vom Schnee noch flach gedrückte, braune Gras; riesige, hausgroße Felsen liegen als Zeugen früherer Felsstürze über das Tal verstreut und blockierten immer wieder Weg und Blick.
...eine stille Mahnung an den Besucher, wie hart einst das Leben der Bewohner war - angesichts allzeit drohender Gefahren wie Felsstürzen, Überschwemmungen und Klimalaunen...
Ganze Ortschaften sind unter Geröllawinen verschwunden.
Weiter oben im engen Tal liegen kleine Siedlungen an sonnenbeschienenen Fleckchen, Häuser mit Mauern und Dächern aus dem gleichen grauen Gneismaterial wie die Felswände, geschickt in die Felssturzmassen integriert ― die Siedlungen sind auf den ersten Blick kaum zu unterscheiden von ihrer Umgebung.
Beim Betrachten der Landschaft und der pittoresken Auswaschungen im Flußbett der Verzasca bei Lavertezzo weht ein im 5 Minuten-Rhythmus gleichmäßig an- und abschwellender kühler Bergwind mit einer geschätzten Windstärke von 30kmh.
Ganz unerwartet beginnt das Stahlgeländer der Fußgängerbrücke unter den Händen stark zu vibrieren und man hört ein leises Summen. Beim Ohr Auflegen auf's Geländer laut hörbar.
Die Beton-Fußgängerbrücke "Oviga di Fuori" hat ein stabiles Füllstab-Geländer...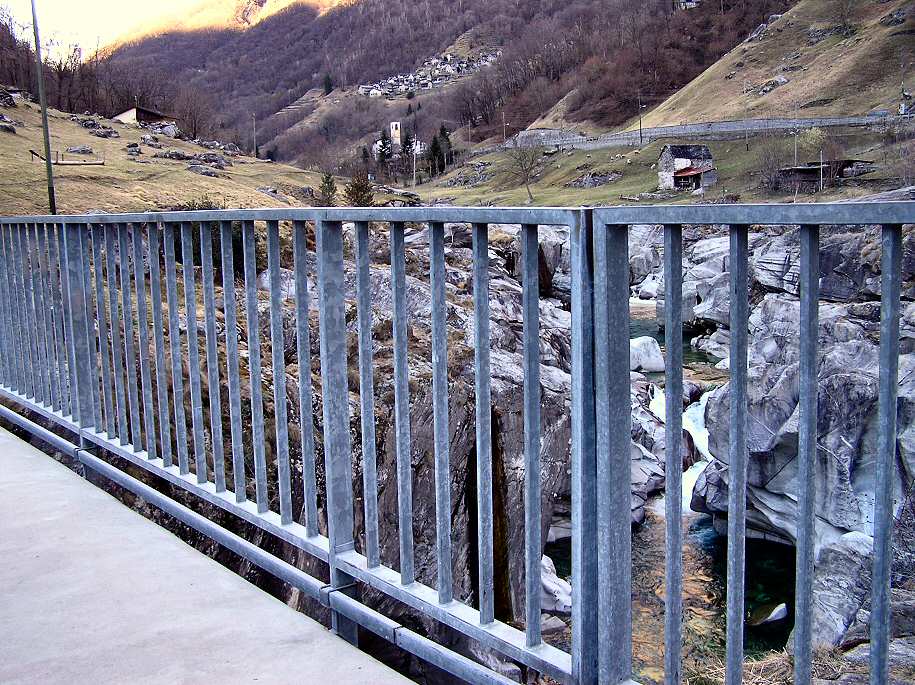 ...aus verzinktem Vierkant-Stahlrohr und Vierkant-Stahlstäben.
Die massiv anmutende Metallkonstruktion ließ den folgenden Ton von etwa 100Hz mit unterlegtem Bachrauschen hören/ spüren...
Am besten zu hören mit einem Kopfhörer - Lautsprecher geben den recht tiefen Ton nur unvollkommen wieder...
Im gleichmäßigen Wind wurden die gleich langen Füllstäbe in ihrem Grundmodus (der gleiche Ton, der beim Anschlagen der Einzelstäbe in ihrer Mitte ertönte) zum Schwingen angeregt (siehe v.Karman-Wirbelschleppen) und synchronisierten sich innerhalb weniger Sekunden via umgebenden Metallrahmen zu einer heftigen Vibration..
Ein weiteres Beispiel für windangeregte Töne in der Architektur...
P.S.: Kennen Sie noch mehr interessante Literatur?
Bitte lassen Sie es mich wissen, Danke!

Ideen, Kritik, Anregungen oder nützliche Links...?

Geben Sie mir bitte die Gelegenheit, diese Seiten für Sie zu verbessern
und schicken mir eine Mail mit Ihrer Meinung, Danke IHNEN!

Developed and completed by
Uli Wahl, All Rights Reserved

Zum Seitenanfang

oder

Zurück zur Hauptseite von Kite Musical Instruments/ Aeolian Instruments
.
.
.
.
.
(English Version following)
.
.
.
.
.
Wind-Sounded Metal Handrails on a bridge
(deutsche Version siehe Seite oben)
...In March 2019 we are enjoying the first sunny days of springtime at the North end of Lago Maggiore (Suisse).
Acacias/ "Mimosas" in full blossom together with camelias; the air with a fresh smell of earth and blossoms...
Due to North Foehn wind, the lake stretching towards the South in an unreal blue colour...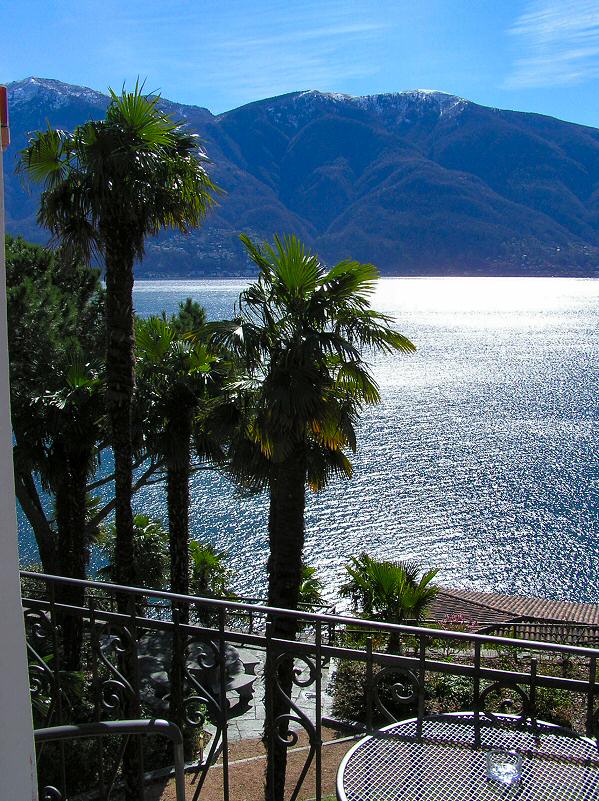 ...springtime at the "Lago"...
...what a strong contrast to the mountain valleys in the North of Ascona and Locarno - wild and romantic!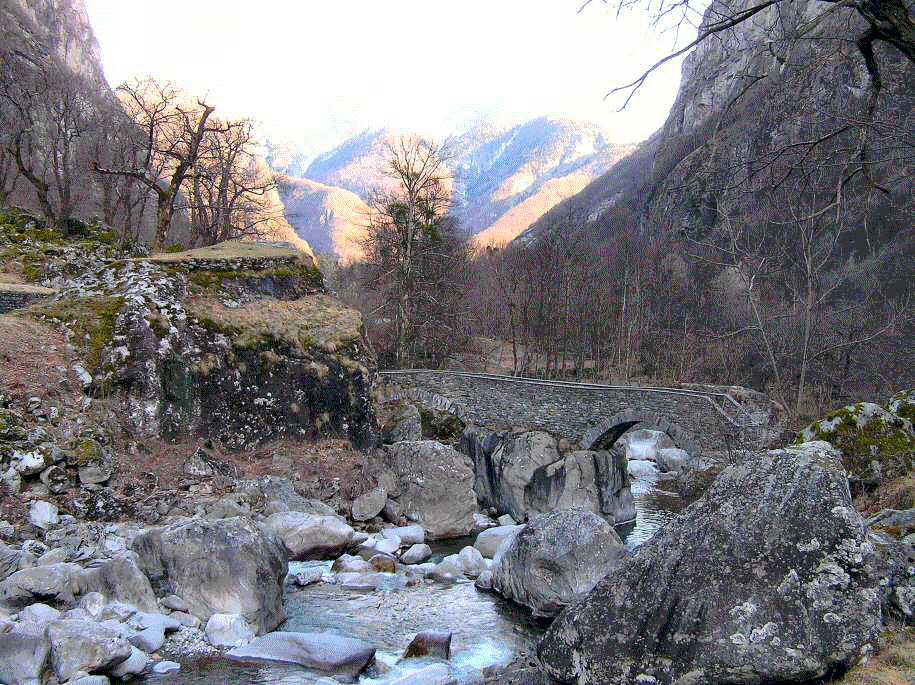 Located at places proved over centuries, keen bridges try to tame the river's brute force , litterally being one with nature...
...in late afternoon light, shadow has covered the valley's bottom. Dazzling bright, the surrounding summits are still covered with snow...
Surrounding summits still in snow, the rests of snow in mountain valleys of Maggia- and Verzasca-river are showing, that winter only taking a reprief. The trees still don't have leaves; little groups of crocus breaking through the brown grass still flattened by recent snow; as a relict of former rockfalls, huge rocks big as houses lay scattered over the valley, blocking way and view over and over again.
...a silent appeal for the visitor, how hard life was for the residents in former times - in the face of pervasive threats like frequent rockfalls, flooding and caprice of climate....
Further up in the valley, small villages cling to sunny spots, houses with walls and roofing of the same grey gneiss material like the sidewalls of the valley, neatly fit into the rocks ... at first view, the housings hardly could be distinguished from its surroundings.
While admiring the landscape and the pittoresque erosion forms of the Versasca river bed near Lavertezzo, a wind blew down the valley, rising and slowing down again in a 5min. period with an estimated speed of 30kmh.
Unexpectedly the handrail of the pedestrian overpass began to vibrate violently under my hands and a gentle humming could be heard. When pressing the ear onto the handrail a loud tone appeared.
The pedestrian bridge of concrete "Oviga di Fuori" has a stable steel filled rod handrail...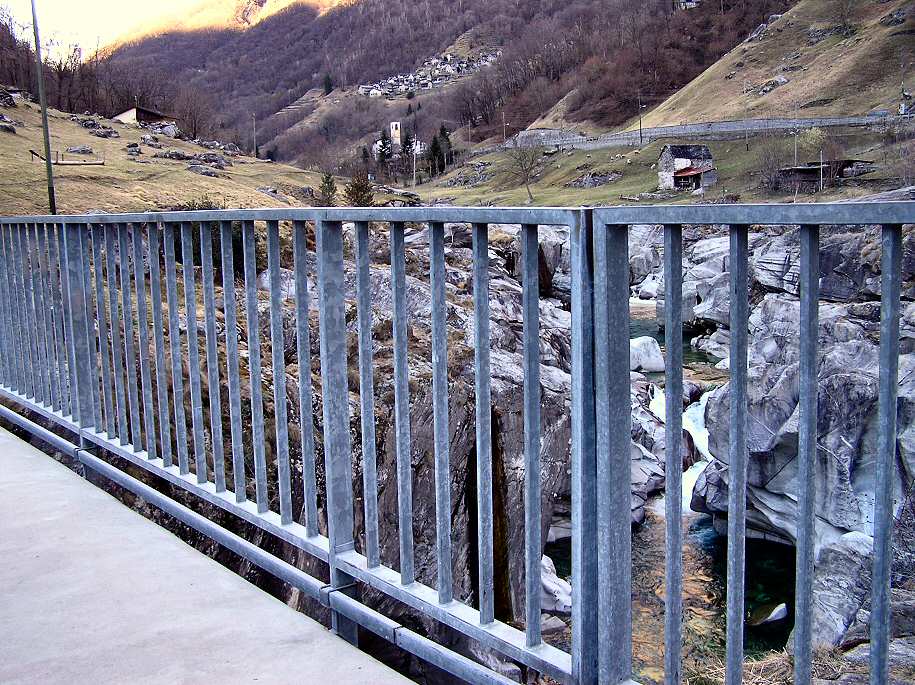 ...made of zinc-plated steel square tube and steel bars.
The seemingly massive metal-construction sounded like this: a sound of ca. 100Hz with the river's whooshing ...
Best listened to with headphones - PC-speakers playing the sound imperfectly only...
In steady wind, the long square bars were vibrated in its zero mode (the same frequency, when hitting the bars at its center) (see v.Karman-vortex-street). The sounds of the different bars immediately synchronized within a few seconds via its metal tube frame, giving a mighty vibration/ tone.
Just another exemple for wind-induced sounds in architecture...
P.S.: Do you know some more interesting literature?
Please let me know, Thanks!

Ideas, criticism or useful links...?

Please give me the opportunity to improve these pages for YOU
and send me a Mail with your opinion, thank you in advance!

Developed and completed by
Uli Wahl, All Rights Reserved

go to top of the page

or

Back to the main-page of Kite Musical Instruments/ Aeolian Instruments